Lady In
White

from Mark L.
Hailing From: Upland, California
Where it Happened: Mt. Baldy, California (Mt. San Antonio)

This is a true story my friend and I encountered late one night. It took place in Upland, California in the same general area where I currently live. Three miles away is a popular skiing area named Mt. Baldy. A small two lane road winds it's way up the mountain and dead ends at the top. It was on this winding road where our encounter occurred.
My friend John and I were bored, so he suggested we go for a drive. Since I'd been on this road many times, I replied, "Sure, let's go!"
After driving around the San Antonio Dam, we proceeded up toward the village on the old and winding Mt. Baldy road. After 4 miles of driving it began to drizzle, not very much, but enough to make me turn on the windshield wipers. We weren't talking, and I didn't have the radio on (which is rare), and we were the only car on the road for about the past fifteen minutes.
I was approaching a right turn when I suddenly saw some one standing on the side of the road. I thought I was seeing things, because this person looked so out of place. Right when I was thinking this, my friend said, "Hey, did you see that?"
"Yeah!, a person, a girl, right?" I replied.
"Yeah, yeah!, stop the car!" he said. "She might need help!"
And he insisted, "Stop the car, stop the car!"
"Okay, okay!" I yelled back, applying the brakes which were now lighting up her reflection in red so I knew for sure that she was still standing there when we were trying to come to a stop.
She was about 6 feet tall with long brown or black hair that looked as if it were wet. She was wearing some sort of formal dress that was white or light pink in color. Her eyes were as wide as saucers, staring at us as we past.
I brought the car to a stop, and John turned around to look out of the back window. She wasn't there!
"Where did she go?" I said.
"Huh? What do you mean, Mark?" he said. "Let's get out and check."
We both got out of the car and walked to the back of it. From our vantage point at the trunk of my car we stood in amazement staring down the now deserted two-lane mountain road. At that moment I expected we might have seen a broken down car we had missed seeing when we first noticed her, or even a group of cars pulled over some way down the road filled with teenagers drinking and partying, but there was nothing. Just my car sitting in the middle of the road with the engine running, doors open and the two of us staring in bewilderment.
The chill that went up my spine was something I will never forget. At that moment John must have experienced something similar to me, because he looked over and said, "Hey, let's get out of here!"
In agreement we got back in the car, turned around and floored it down the mountain. Some years later I saw John again at his house. After a couple of beers he asked me, "What do think we saw that night in the mountains?"
I laughed, "How did you know I was thinking about that?" I asked him because we hadn't spoke about it since the night it happened.
"Well, I think we saw a ghost!"
"Me too!," he said. "That was the only explanation I could think of."
Sometime after that I gave a guy a ride whose Moped had broken down. He lived in Mt.Baldy Village and he told me that he too had seen her. He told me that she appears only on a certain night of the year and is called by the people that live up in the mountain, "The Lady in White."
He then told me that she was killed and walks the mountain looking for her children. This is a true story which I tell almost everyone I know.
I now believe in ghosts and after reading this and I hope you do too!

I was editing this submittal and it occurred to me that this is the first submittal I have had from my immediate area, where I live, in almost five years! I haven't had a story about our area, I mean, nearby, within 15-20 miles, since this site began! And when I started the site, I thought most of the stories would come from here, but I didn't understand the Net as well as I do today ... and thankfully, we have had stories from everywhere.
But from my own neck of the woods, how nice! And my old stompin' grounds!
You see, I used to live one block from the San Antonio Dam when I was working on my Master's degree, and I used to work at the Mt. Baldy Ski Lift. The Mt. Baldy Lodge, in the Village, was one of my favorite places to go when it was run by Ole (who has since moved on, yet it still is one of my favorites) as well as spending a great deal of my time in idyllic solitude hiking the trails that fan out all around the village that led me past mountain streams and waterfalls up on its higher grounds. It was also where there was one of my favorite "romantic" restaurants, Bonnie Krick's "Icehouse," that has since burned to the ground and, to my sadness, was never rebuilt.
Walking the trails in this gentle and high-sloping area is a real treat, but traveling down the hill late at night after shifts-end at two in the morning is another experience -- while I saw many cars over the side of the road, I was never lucky enough to see the Lady in White. Darn, eh? Still, I want to express my gratitude Mark for sending in this story and supporting Ghostories -- it is truly appreciated.
I do believe I'll go up the hill soon, maybe before week's end, have a burger at the Mt. Baldy Lodge and possibly stop at the Buckhorn and the Snow Crest -- maybe I'll even hit the Buffalo Inn when I get back down the hill to Upland. I'll try to take some pictures on my way up to give our readers an idea of what this road looks like, and put them online with this story -- so if you read this story today, with no pics, make sure to come back in a week or so and you'll see them.
For this week, take care, and thanks for visiting O'Neill's Ghostories!
:-) Keno
And we did go up Mt. Baldy over Memorial Weekend. Here are the pics!
The Road as it starts up the mountain, just past the dam (winds around the base of the hill)
Same road, just taken from road grade level
Higher up, looking down the "hill" at the tunnel
Same "shoot" location -- just looking "up the hill" this time
Continuing up the hill toward the Village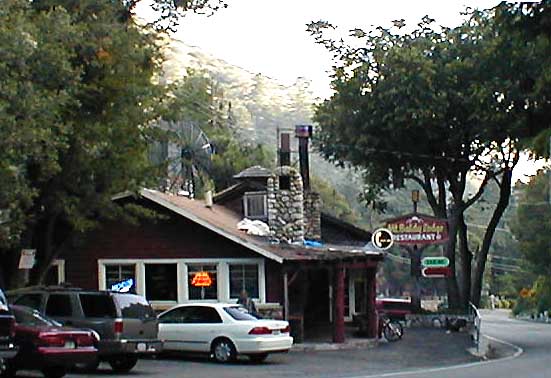 Our favorite place to "kick back" and play! The Mt. Baldy Lodge
This remains my most favorite places once we're down from the mountain
They have great food and fantastic weekend outdoor music -- right near the Claremont Colleges